About LA County Choprods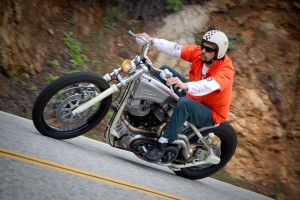 LA County Choprods is the brainchild of Gard Hollinger, born from the desire to blend creativity, innovation and raw materials into Functioning Art.
As a self taught designer, builder and fabricator he draws on his experiences for inspiration.  His intro to the motorcycle world came in the form of the famous Purple Taco mini bike, the dream machine for an 8 year old growing up in Los Angeles. This was followed naturally by more proper dirt bikes and then a successful stint racing them. With the racing in those days came the fixing, and so Gard became well-versed in the inner workings of his bikes and deeply interested in how they were built.
He brought that unique perspective on form & function to bear in his first LA venture, Ziggy Harly Custom Motorcycles.  After a name change, LA Choprods settled into a new shop in Gardena, an area steeped in motorcycle and motorsports history.  A stones throw away from Choprods is the site of historic Ascot Park.  A couple blocks to the west is Carroll Shelby's Shelby Racing Headquarters, where it's been for 30 years or more.  Gardena was also home to chopper mavens like Phil Ross and his Super-Max, and the infamous Dick Allen.
Over the years, Gard's unique style has captured the attention of some well-know motorcycle enthusiasts, with a customer list that could pass as a Hollywood "A List."  He and his work have been featured in magazines and on televisions around the world including Speed TV's Build or Bust, Discovery's Great Biker Build Off, ESPN's Chopper Nation and the UK Series All The Gear, No Idea to name a few.  He also has the distinction of being the first custom motorcycle builder featured in a National TV Commercial for the American Express Card.
Other highlights have included his chapter in the highly successful book Art of the Chopper II, featured builder on the 2006 Hard Rock Road House Tour, invitations to many prestigious custom motorcycle exhibits including the AMD World Championships, Las Vegas Bikefests Artistry in Iron and Michael Lichters '06 Schools Out & '10 Eternal Combustion Sturgis exhibits.
In 2012 as Gard's vision expanded into the Arch brand, the Choprods business moved into the new Arch facility.  Like the old spot our new location has no shortage of inspiration.  With neighbors like Tesla and Spacex, Choprods and Arch have an eye toward the future while keeping a solid grip on the past.